International Journalists were guests at Leipzig University
From war zones to German newsrooms – Syrian journalists report on Leipzig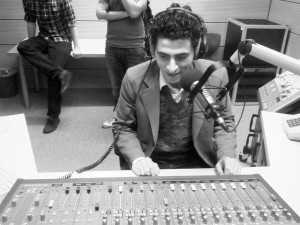 In Syria they reported on attacks and destruction – as well as on daily life. Nowadays the journalists Tarek Khello, Ebraheem Alisa Algasam and Mohamed al Khatib gain new experiences. Step by step they want to achieve their new aim: To work again as journalist - in Germany.
Besides of joining a German course, Khello, Algasam and al Khatib participate at the International Journalist's Meetings. Following an invitation of EIJC they attended a seminar on journalistic research at Leipzig University this summer. The Syrian journalists worked with Journalism students, not only learning the basics of the media world in Germany but also conducting their own journalistic research. The Syrian journalists reported on their experiences of being a journalist in war zones, discussing, for example, the risks, problems and limitations reporters face, as well as their particular responsibility to their audience.
With a team of German students Khello produced a report on refugee accommodation, for the local radio Mephisto 97,6; Ebraheem Alisa Algasam was an important interview partner. Another report by Mohamed al Khatib will soon feature in a local magazine. Lebanese journalist Whalid Elzein participated as a guest.
Read more
The report online |
>>> "Where human dignity comes to an end"
By Carlotta Jacobi, Pauline Bombeck, Elisa Marie Rinne and Tarek Khello, Mephisto 97,6, 02.08.2015
The research workshop ran at the Institute for Communication and Media Research at the University Leipzig, and also the local radio station Mephisto 97,6. It was designed and coordinated by Dr. Lutz Mükke (EIJC) and Radio and TV journalist Ulrike Werner. Students of Arabic Studies at Leipzig University enabled high level technical communication as volunteer interpreters.